DEVELOPMENT AND APPLICATION OF THE ACCOUNTING SYSTEM IN THE BUSSINES ENTITIES IN THE REPUBLIC OF NORTH MACEDONIA
Blagica Koleva

Olivera Gjorgieva-Trajkovska

Vesna Georgieva-Svrtinov
Keywords:
analysis, accounting system, information, company, technology , software
Abstract
Today is really hard to imagine a successful organization of the process of accounting recording and operating without proper application of some technological level of information and telecommunication technology. Advances in technology have replaced the operational part of accounting staff's work by automation of business and accounting processes, where the input and processing of accounting information and date will be defined and automated in advance with the help of electronic, integrated accounting systems, schemes and orders.
More and more of the date needed by members of the accounting profession are available only in electronic form. This in itself suggests that accounting systems provide professional opportunities for professionals to achieve greater efficiency in performing their business, as a basic tool for increasing efficiency and effectiveness in delivering products services to end users, as well as timely information an all developments. Accountants should certainly keep in mind that information technology – IT significantly increases the specifics of accounting system and the environment. Companies that use accounting systems that have already been transformed in line with the advances in digitalization have significantly increased their productivity and efficiency. With the very application for the accounting systems and the transition from manual execution of obligations, there is a significant saving of time and costs necessary for the performance of work obligations in company.
Downloads
Download data is not yet available.
References
Anthony J. Kambino, The Make-or-Buy-Decision, New York: Institute of Management Accountants, 1980;
Atkinson, A. A., Bunker, R. D., Kaplan R.S. and Youngf, Management Accounting, Prentice Hall, Inc., New Jarsey, 1997;
Bagranoff, N., Simkin, M., & Carolyn, N., Accounting Information Sistem. New York: John Wiley & Sons, 2012, Beograd, 2001;
Boczko, T. Corporate Accounting information System, 2007;
Charles T. Horngren, Alnoor Bhimani, Srikant M. Datar, George Foster, Management and Cost Accounting, Prentice Hall, 2005;
Decoster, D. T., Management Accounting: A Decision Emphasis, New York: John Wiley and Sons Inc.2011;
Hall, J., Accounting Information Systems. New York: Wiley&Sons, 2011;
Sinha, N. V., Management Accounting – Tools and Techniques. Mumbai: Himalaya Publishing House, 2004;
Stojanović, D. D.: Računovodstvo i savremene računske tehnologije, Finansije, broj 3-4;
Zoran Petrovć, Goranka Knezević, Marko Milojović, Ranćunovodstveni informacioni sistemi, Beograd, 2016.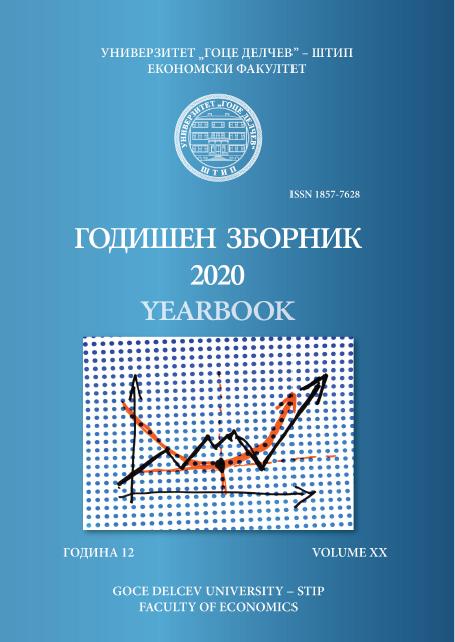 How to Cite
Koleva, B., Gjorgieva-Trajkovska, O., & Georgieva-Svrtinov, V. (2020). DEVELOPMENT AND APPLICATION OF THE ACCOUNTING SYSTEM IN THE BUSSINES ENTITIES IN THE REPUBLIC OF NORTH MACEDONIA. Yearbook - Faculty of Economics, 20(1), 47-54. Retrieved from https://js.ugd.edu.mk/index.php/YFE/article/view/3741
Section
Accounting and Auditing