CREATING INCLUSIVE AND MODERN LEADERSHIP IN ORGANIZATIONS BASED ON THE USE OF THE MANAGEMENT THEORIES AND PRACTICES
Viktorija Adziska

Trajko Miceski
Keywords:
management theories, schools, inclusive modern management
Abstract
Although the times in which we live in today and run our organizations at the same time are called modern times that require modern methods of charismatic leadership, but in reality, according to many respondents, this is not the case.
After all, almost all organizations are dominated by two distinct views, on the one hand the inadequacy of management, and on the other hand the inadequate demand of employees for proper management. This means that in many organizations there is no real modern charismatic management (for us known like "top" management) and at the same time, although charismatic management is performed by a smaller number of employees is influential with their reckless dominance, it is undesirable by the excuse that is missing "tolerance and lack of heat by the manager"
In this regard, the question arises, what kind of leadership to apply in our organizations? Well, there are a number of management theories in the literature, and at the same time obvious practices. It remains to merge multiple leadership styles by preferring modern leadership.
Due to the scarcity of expression, such leadership would be inclusive modern leadership, which would in fact be based on the great awareness of leaders about style preferences according to reality in the organization, actively seeking and considering different views and perspectives for better decision making.They must inspire different people to follow and at the same time move the organizational and individual performance towards a common vision.
The key areas of development for inclusive leaders are the continuous practice of self-development management, raising self-awareness, living in reality and developing a shared vision, building relationships and making changes by valuing the situations in which they work and numerous activities related to ethical goals.
This paper provides theoretical views on management schools, practical leadership in organizations, empirical research, that are made graphical and preference for activities to implement inclusive modern leadership.
Downloads
Download data is not yet available.
References
Bahtijarević-Šiber, F. (1999), Management ljudskih potencijala; Golden marketing Zagreb, Zagreb;Buble, M. (2006), Menadžment; Ekonomski fakultet Split, Split;
Business Dictionary, Recruitment, http://www.businessdictionary.com/definition/recruitment.html;
Boyatzis, Richard, Goleman, Daniel, McKee, Annie (2013), Primal Leadership: Unleashing the Power of Emotional Intelligence. Boston, MA: Harvard Business Review Press.;
Brereton, Caroline (2017), 5 ways leaders can engage their team during complex change. Online article.The globe and mail;
Brown, Brené (2014), The power of Authenticity. Link: http://justlav.com/2014/09/12/the-power-ofauthenticity/;
Brown, Brené (2010), The power of vulnerability. TedxHouston. Link: http://www.ted.com/talks/ brene_brown_on_vulnerability?language=en; Brené, Brown (2013), The Power of Vulnerability: Teachings of Authenticity, Connections and Courage. A.W. Bruna;
Brewer, Marilynn B. (1991), The Social Self: On Being the Same and Different at the Same Time. Personality and Social Psychology Bulletin, vol. 17, no. 5;
Caritas Europe (2016), Welcome – Migrants make Europe stronger. Caritas practices for an inclusive Europe. Brussels;
Catalyst (2017), Take 5 leadership / Take 4 inclusive leadership. Training manual. http://www.catalyst. org/;
Catalyst (2017), Take 5 leadership / Take 4 inclusive leadership. Training manual. http://www.catalyst. org/;
Chaleff, Ira (2009), The Courageous Follower: Standing Up To & For Our Leaders. Berrett-Koehler Publishers;
Council of Europe: European citizenship in Youth Work (2017), revised draft paper. T-Kit;
Dessler, G. (2005), Human Resource Management: 10th edn, Prentice Hall Inc., New Jersey, USA;
Deloitte (2012), Inclusive Leadership Will a Hug do? Human Capital, Deloitte Australia Point of View;
European Commission (2016), PM2 Project management Methodology Guide -Open Edition Brussels / Luxembourg;
Gatewood, R.; Field, H.; Barrick, M. (2008), Human Resource Selection, 6th ed.; Cengage/South-Western: Mason, OH, USA;
Gatewood, Robert D., Feild, Hubert S., Barrick Murray R.(2008), Human resource selection: Thomson Learnin Inc, USA;
Hull, E., Jackson, K., Dick, J. (2011), Requirements Engineering, 3rd ed.; Springer: London, UK;
Mahapatro, B.Bhusan (2010), Human resource management: New Age International(P) Ltd. Pubishers, New Delhi;
Pržulj, Ž., Vemić-Đurković, J.(2010), Determination of competitive advantage from the perspective of non-material resources of companies, Montenegrin Journal of Economics, N0 11, Vol. VI, ISSN 1800-5845, UDC 33 (51), Ekonomska laboratorija za istraživanje tranzicije, Nikšić, Crna Gora;
University of Missouri System, Search Committee Training, https://collaborate.umsystem.edu/sites/hrpublic/documents/CAREER/CURRENT/TalAcq-SearchCommitteeTraining.pdf#page=22;
Мицески, Трајче (2009), Здравствена статистика и анализа на податоци: Универзитет "Гоце Делчев", Штип;
Мицески, Т. (2009), Менаџмент на човечки ресурси. УГД - Економски факултет.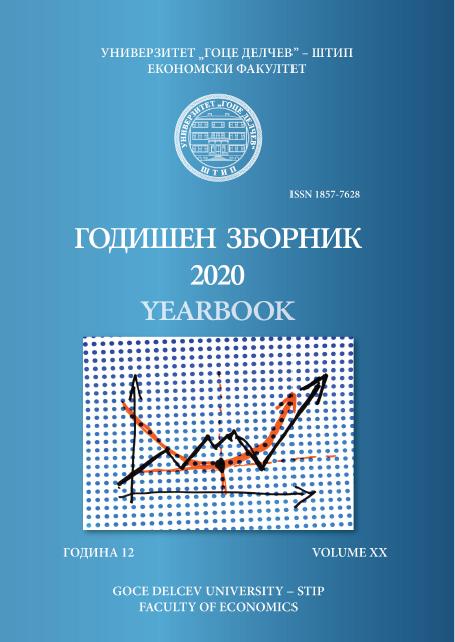 How to Cite
Adziska, V., & Miceski, T. (2020). CREATING INCLUSIVE AND MODERN LEADERSHIP IN ORGANIZATIONS BASED ON THE USE OF THE MANAGEMENT THEORIES AND PRACTICES. Yearbook - Faculty of Economics, 20(1), 21-37. Retrieved from https://js.ugd.edu.mk/index.php/YFE/article/view/3744
Section
Management and Business