THE MASCULINE NOUNS IN MACEDONIAN AND SERBIAN LANGUAGE
Abstract
In the grammars for the Macedonian and Serbian language ​​it's stated that the morphemes -ov-/-ev- are carriers of the information about the gender and the number of some nouns. Having in mind the different representation of these morphemes in the Macedonian and Serbian language, we will try to review the plural forms of masculine nouns, especially those that receive -ovi/-evi in the plural. In the context of what has been said, we will try to consider its origin, the use in older stages of languages, as well as the changes it undergoes based on some dialectal features of the Macedonian speaking area.
            Keywords: masculine nouns, plural, morpheme, Macedonian language, Serbian language.
Downloads
Download data is not yet available.
References
Бојковска, Ст., Минова-Ѓуркова, Л., Пандев, Д., Цветковски, Ж. (2008). Општа граматика на македонскиот јазик. Скопје: Просветно дело.
Конески, Бл. (2004). Граматика на македонскиот литературен јазик. Скопје: Просветно дело.
Конески, Бл. (1986). Историја на македонскиот јазик. Скопје: Култура.
Конески, К. (1999). Правописен речник на македонскиот литературен јазик. Скопје: Просветно дело.
Саздов, С. (2008). Современ македонски јазик 2. Скопје: Табернакул.
Станојчиќ, Ж., Поповиќ Љ. (2004). Граматика српског језика. Београд: Завод за уџбенике и наставна средства.
Стојменовиќ, Ч. (2006). О пореклу и употреби морфема –ов-/ -ев- код именица мушког рода у српском и македонском језику (стр. 379–385). XXXII научна конференција на XXXVIII меѓународен семинар за македонски јазик, литература и култура. Скопје: Универзитет "Св. Кирил и Методиј", Меѓународен семинар за македонски јазик, литература и култура.
Клајн И. (2005). Граматика српског језика. Београд: Завод за уџбенике и наставна средства.
Чундева, Н. (1987/88). За множинските форми кај именките од машки род. Македонски јазик. Скопје: Институт за македонски јазик "Крсте Мисирков".

*
Škiljan, D. (1980) Pogled u lingvistiku. Zagreb: Školska knjiga.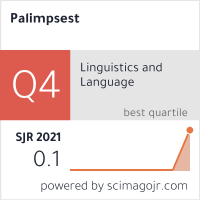 How to Cite
Grkova, M. (2021). THE MASCULINE NOUNS IN MACEDONIAN AND SERBIAN LANGUAGE. PALIMPSEST / ПАЛИМПСЕСТ, 6(11), 85-94. https://doi.org/10.46763/PALIM21116085g