BLAZE KONESKI IN REGARDS OF THE EDUCATION CURRICULUM ON THE SUBJECT OF MACEDONIAN LANGUAGE
Abstract
The name Blaze Koneski finds an essential place in the textbooks on the subject of Macedonian language for primary and secondary education. In the year of 2021 a 100 years have passed since his birth, therefore, that same year was commemorated as a year in honor of Blaze Koneski. At the same time, 2021 has also been declared an International Year of Peace and Trust by the General Assembly of the United Nations where the Republic of Macedonia joins the celebration of the International Year with a special program that will be dedicated to the great Macedonian patron, Koneski. His birthday is also inscribed on the UNESCO List for celebrating significant anniversaries in the world during 2021. The program, which is part of the calendar of important international anniversaries, is joined by several institutions, ministries, associations in the country and abroad, including the National Bank and the Macedonian Post, which will aim to issue a gold coin and a postage stamp featuring the portrait of Koneski. This is where the inspiration and the idea to review the life and work of Koneski in the textbooks in primary and secondary education emerged from.
Keywords: Blaze Koneski; Macedonian language; textbooks; primary education; secondary education.
Downloads
Download data is not yet available.
References
Андоновски, В., Марковиќ, М., Стојковски, Г. (2003). Македонски јазик и литература, учебник за трета година за реформираното гимназиско образование. Скопје: Култура.
Андоновски, В., Марковиќ, М., Стојковски, Г. (2004). Македонски јазик и литература, учебник за четврта година за реформираното гимназиско образование. Скопје: Култура.
Атанасова, Љ. (2009). Македонски јазик за четврто одделение од деветгодишното основно образование. Скопје.
Бојковска, Ст., Минова-Ѓуркова, Л., Пандев, Д., Цветковски, Ж., Аврамовска, Н., Георгиевска-Јаковлева, Л. (2009). Македонски јазик и литература за четврта година за реформираното гимназиско образование. Скопје: Просветно дело.
Бојковска, Ст., Минова-Ѓуркова, Л., Пандев, Д., Цветковски, Ж., Исакова, Н., Пендовски, Б. (2018). Македонски јазик и литература за втора година за реформираното гимназиско образование. Скопје: Просветно дело.
Бојковска, Ст., Минова-Ѓуркова, Л., Пандев, Д., Цветковски, Ж., Тодоровски, Г., Аврамовска, Н. (2018). Македонски јазик и литература за трета година гимназиско образование. Скопје: Просветно дело.
Бојковска, Ст., Алексова, Г., Пандев, Д., Гочкова, К. (2020). Македонски јазик за осмо одделение за деветгодишното основно обазование. Скопје: Министерство за образование и наука, Република Македонија.
Богдановски, Т. Македонски јазик за седмо одделение – осумгодишно основно образование.
Велкова, С., Јовановска, С. (2020). Учебник по Македонски јазик за шесто одделение. Скопје: Министерство за образование и наука, Република Македонија.
Велкова, С., Јовановска, С. (2020). Македонски јазик за седмо одделение за основно образование. Скопје: Министерство за образование и наука, Република Македонија.
Велкова, С., Јовановска, С. (2010). Македонски јазик за осмо одделение. Скопје: Министерство за образование и наука, Република Македонија.
Димковска, Б., Цветковиќ, С. Македонски јазик за шесто одделение основно образование.
Кртолица, Б., Митовска, В., Гавриловска, В. Македонски јазик за четврто одделение за деветгодишното основно образование.
Настовска, В., Севдинска, Љ. (2008). Македонски јазик за трето одделение деветгодишно основно образование. Скопје: Просветно дело.
Настовска, В., Севдинска, Љ. (2009). Македонски јазик за четврто одделение од деветгодишно основно образование. Скопје: Министерство за образование и наука, Република Македонија.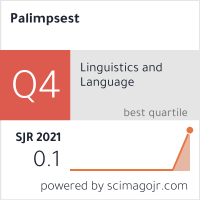 How to Cite
Grkova, M. (2021). BLAZE KONESKI IN REGARDS OF THE EDUCATION CURRICULUM ON THE SUBJECT OF MACEDONIAN LANGUAGE. PALIMPSEST / ПАЛИМПСЕСТ, 6(12), 203-211. https://doi.org/10.46763/PALIM21612203g
Section
МЕТОДИКА НА НАСТАВАТА / TEACHING METHODOLOGY