Credit Market Instruments
Olivera Gorgieva-Trajkovska

Blagica Jovanova
Abstract
Credit market is one segment of the fi nancial market economy, where many instruments are traded. Like the classic market of goods and services, this market is a place where daily arise new fi nancial products and services that continuously monitor the trends of development and customer needs. Financial institutions as participants on credit market offer many different instruments, which must be carefully analyzed in order to fi nd the most favorable investment alternatives, giving the highest yield, with the lowest cost. Here we analyze the credit, as a basic instrument of supply and demand on the market of loans and bonds, which in many features are similar.
Downloads
Download data is not yet available.
References
Cirovic, M. (2001). Bankarstvo. Beograd
Trpeski, Lj. (1995). Pari I bankarstvo. Ekonomi pres. Skopje
Anson,M. Fabozzi,J. (2004). Credit derivates: Investments, Applications and Pricing.
Boonstra, W. Eijffi nger,S. (1997). Banks, Financial Markets and Monetary Policy. Amsterdam
Bankakademie International. (2000). Credits. Frankfurt/Main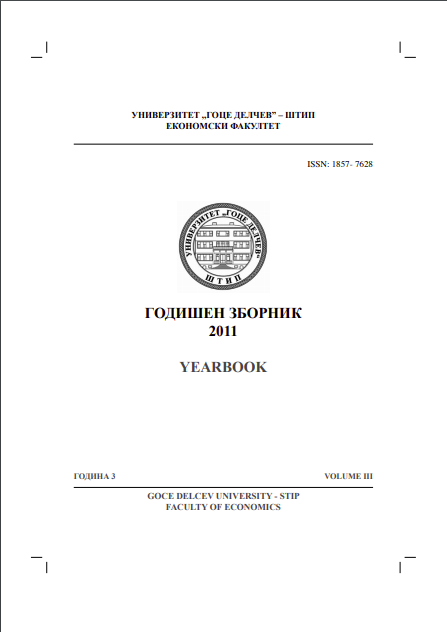 How to Cite
Gorgieva-Trajkovska, O., & Jovanova, B. (2013). Credit Market Instruments. Yearbook - Faculty of Economics, 3(1), pp.95-104. Retrieved from https://js.ugd.edu.mk/index.php/YFE/article/view/491