INFLUENCE OF LODGING OF RICE DURING VEGETATION ON RICE MILLING YIELD AND QUALITY
Verica Ilieva

Ilija Karov

Ljupco Mihajlov

Mite Ilievski

Natalija Markova Ruzdik

Vasko Zlatkovski
Abstract
Depending on the time of lodging of rice during vegetation the yield and the quality of white rice has been putted under analysis of San Andrea variety. The effect of lodging has been determined through analysis of the results on representative samples of paddy rice, harvested from a plot on which the lodging had been registered during heading and flowering phases, and from a plot on which lodging had been registered during later development phases, during maturing. Results obtained from representative samples from plots on which there was no lodging effect were used as control. The experimental material was produced in Kochani region, on the experimental plots of Goce Delchev University - Shtip, Faculty of Agriculture, Rice Institute during 2014 and 2015. Obtained results prove that lodging in rice has significant influence over the milling recovery of the rice, as well as over the percentage of whole, broken, chalky and unhulled grains. The rice's two-year average reduce level of milling recovery is at the level of 3.98% in the case with later lodging up to 12.26% in the case with earlier lodging. The percent of whole grains realted to the control is reduced buy average of 36.98% with earlier lodging and by 13.26% with later lodging respectively. Earlier lodging has significantly higher influence on the percent of broken grains, for up to 78.03% higher as compared with control and by 40.36% as compared with the later lodging. The percent of chalky grains during lodging in the heading-flowering phase is increased for more than 2 times as compared with the control, and by double as comparison when compared the control and the maturing phase. As compared to the control there is an increase of the percent of uhnulled grains in the rice from the earlier lodging plot by 3 times. As far as the rice obtained from the plot with later lodging, the percent of unhulled grains compared to the control is 21.43%.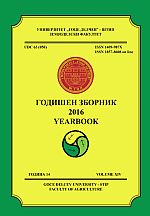 How to Cite
ILIEVA, Verica et al. INFLUENCE OF LODGING OF RICE DURING VEGETATION ON RICE MILLING YIELD AND QUALITY.
Journal of Agriculture and Plant Sciences
, [S.l.], v. 14, n. 1, p. 49-59, jan. 2017. ISSN 2545-4455. Available at: <
http://js.ugd.edu.mk/index.php/YFA/article/view/1778
>. Date accessed: 25 jan. 2020.