CONTRASTIVE ANALYSIS OF THE TURKISH AND MACEDONIAN SOUNDS AND THEIR CLASSIFICATION
Abstract
The modern Turkish alphabet is consisted of 29 letters. The modern Macedonian alphabet has 31 letters. Turkish and Macedonian languages classify sounds in two general categories: vowels and consonants. Turkish language has 8 vowels (a, e, i, ı, o, ö, u, ü) and 21 consonants (b, c, ç, d, f, g, ğ, h, j, k, l, m, n, p, r, s, ş, t, v, y, z). Macedonian language has 5 vowels (a, e, и, о, у) and 26 consonants (б, в, г, д, ѓ, ж, з, ѕ, ј, к, л, љ, м, н, њ, п, р, с, т, ќ, ф, х, ц, ч, џ, ш). This paper will provide a contrastive analysis of the Turkish and Macedonian phonological systems and will offer an account of their similarities and differences.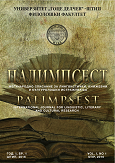 How to Cite
LEONTIK, Marija. CONTRASTIVE ANALYSIS OF THE TURKISH AND MACEDONIAN SOUNDS AND THEIR CLASSIFICATION.
PALIMPSEST / ПАЛИМПСЕСТ
, [S.l.], v. 3, n. 5, p. 43-57, may 2018. ISSN 2545-3998. Available at: <
http://js.ugd.edu.mk/index.php/PAL/article/view/2253
>. Date accessed: 09 july 2020.