PREPARATION AND CHARACTERIZATION OF SLUDGE-BASED ACTIVATED CARBON
Vesna Pancevska

WWTP Volkovo, PE Water Supply and Sewerage, Skopje, Republic of North Macedonia

Afrodita Zendelska

Faculty of Natural and Technical Sciences, University "Goce Delcev" Stip, Macedonia
Keywords:
WWTP Volkovo, sewage sludge, adsorbent, macro-porous structure, wastewater
Abstract
Sewage sludges produced from wastewater treatment plants continue to create environmental problems in terms of volume and method of valorization. Thermal treatment of sewage sludge is considered as an attractive method in reducing sludge volume which at the same time produces reusable by-products.
Produced sewage sludge from wastewater treatment plants is carbonaceous in nature and rich in organic materials, therefore, it has the potential to be converted into activated carbon. Converting sewage sludge into activated carbon based on its high content of organic components not only solve the disposal problem of sewage sludge, but also turn solid waste into useful material in producing adsorbent for wastewater treatment.
In this study, the sludge-based activated carbon was obtained using sewage sludge from Volkovo wastewater treatment plant in Skopje by chemical activation using 25% ZnCl2 solution and carbonization at a temperature of 600˚C for 50 minutes. Prepared sludge-based activated carbon was characterized using scanning electron microscope, X-ray diffractometer and well-known standard methods, such as ash and moisture content, and adsorption capacity through iodine number method.
The obtained sludge-based activated carbon has a macro-porous structure and exchangeable cations that makes it a suitable as adsorbent for wastewater treatment.
Downloads
Download data is not yet available.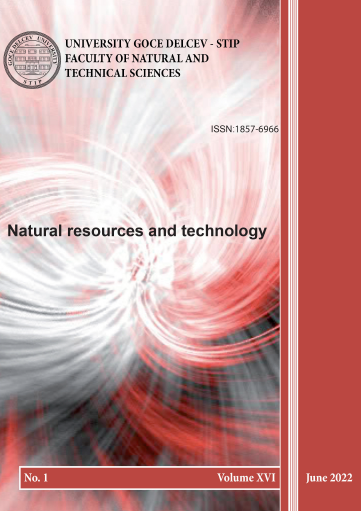 How to Cite
Pancevska, V., & Zendelska, A. (2022). PREPARATION AND CHARACTERIZATION OF SLUDGE-BASED ACTIVATED CARBON. Natural Resources and Technology, 16(1), 61-67. https://doi.org/10.46763/NRT22161061p
Section
Environmental Protection