COMPARATIVE ANALYSIS OF CAPSAICIN CONTENT IN PEPPERS (Capsicum annuum L.) GROWN IN CONVENTIONAL AND ORGANIC AGRICULTURAL SYSTEMS
Olivera Bicikliski

Krste Tashev

Fidanka Trajkova

Ljupco Mihajlov

Liljana Koleva Gudeva
Abstract
Capsaicinoids according to their chemical structure are phenethylamine group of alkaloids are produced exclusively in the secondary metabolism of genus Capsicum, fam. Solanaceae. Pepper (Capsicum annuum L.) is economically one of the most important vegetable crops in the Republic of Macedonia. Up to date in the Republic of Macedonia there is no methodical and long-term research in organic production of vegetables. Still there are current debates in broad sense about the advantage of organic production as compared to conventional one in terms of morphology of products and especially their quality characteristics.
The aim of this paper is comparative analysis of capsaicin content in fruit extracts from (Capsicum annuum L.) grown in organic and conventional cultivation systems. Pepper genotypes under study were Strumicka Kapija, Strumicka Veznena, Piran, Zupska Rana, Duga Bela and Kurtovska Kapija. Methanol (≥ 99.9%) was used as capsaicin solvent for extraction of capsaicin from dried pepper fruit material. The determination of capsaicin content was performed by chromatographic analyses with HPLC (High Pressure Liquid Chromatography).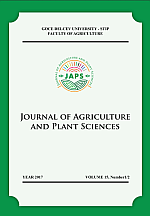 How to Cite
BICIKLISKI, Olivera et al. COMPARATIVE ANALYSIS OF CAPSAICIN CONTENT IN PEPPERS (Capsicum annuum L.) GROWN IN CONVENTIONAL AND ORGANIC AGRICULTURAL SYSTEMS.
Journal of Agriculture and Plant Sciences
, [S.l.], v. 15, n. 1/2, p. 27-36, dec. 2017. ISSN 2545-4455. Available at: <
http://js.ugd.edu.mk/index.php/YFA/article/view/1927
>. Date accessed: 06 aug. 2020.